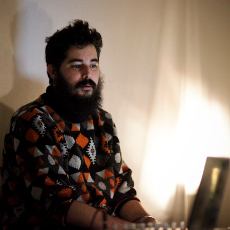 photo : Arnaud Thomas
Experimental programmer and musician. He bases his work on the deconstruction of field recordings, no-conventional sinthesis and the creative use of technology errors. Luthier-digital with a "pure data" environment, which he uses to develop his own no conventional tools for processing and real time algorithmic generative composition. He can be placed somewhere between Computer Music, the Aesthetics of Error, and generative Noise. He seeks the creation of virtual sound universes, imaginary soundscapes that encourage active listening and a different sensibility toward the perception of sound phenomena.
He works under the open source paradigm. All his sound experiments are published under Open licences, by different labels and netlabels; (Free Software Series, Uzusounds, Drone Records, tecnoNucleo, BRRR, etc).
Your other projects are experimental net-radio
mEtaminaFreeNetRadio
, editor of
ursonatefanzine
and collective
minipimer.tv
.